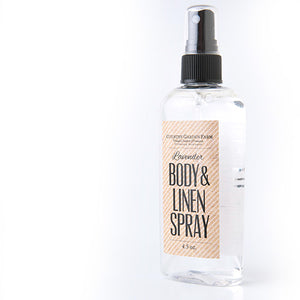 Lavender Body and Linen Spray
A light spray with Lavender Essential Oil, to enjoy the fresh scent of lavender all year long.
--
This spray has so many applications!  We use it on bed pillows and linens for a relaxing night of sleep.
You can mist a washcloth with this spray and put it in your dryer with your laundry for a light scent of lavender on your clothes.  I have sprayed an outfit before I leave the house, and used it as a light perfume.
Does your car smell funky? Keep a bottle inside for a light spritz of freshness. We have a bottle in the bathroom, bedroom and laundry room!