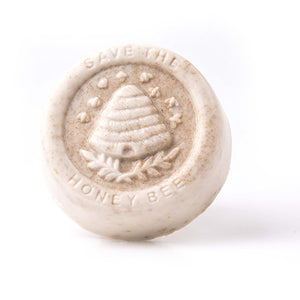 Unscented Oatmeal Honey Soap
Oatmeal and Honey soap is a skin soothing treat that gives back to the bees!
--
We use skin soothing oatmeal and honey from our hives here at the farm, to make a creamy soap with lots of lather! No artificial fragrances in here, we made this soap unscented.
Honeybees are having a rough go right now.  They are fighting for survival from disease and many pesticides. We know just how important our bees are for all of us, so we have decided to give 5% of our profits from this soap to honeybee research and starting new hives.  Help us "Save the Honeybee"