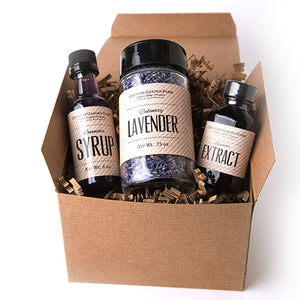 Lavender Culinary Box
Try this sampler of Lavender Culinary products to bring the fresh taste of lavender to your kitchen.
--
Cooking just got a lot more fun with our Lavender Culinary Box!
Lavender buds, syrup and extract let you try the fresh taste of lavender in recipes from baking to BBQ!
Lavender is a classic ingredient for meat rubs and BBQ recipes. Baking with lavender and lemon is always a hit! Let your imagination run wild with the possibilities!