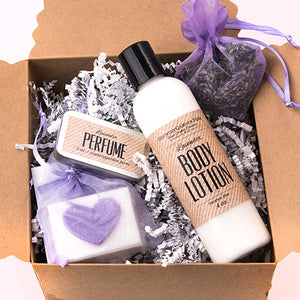 Lavender Sample Pack
A cute lavender sampler kit, that includes lotion, soap, sachet, and solid perfume.
--
This cute lavender sample pack is a great way to try a little bit of our most popular items.  A 4 ounce bottle of lavender lotion, a little bar of goat milk soap, a solid lavender perfume and tucked inside is a little sachet to use in your drawer or car!